Electronic Skin: Sensing the World Around and Within Us
11 November 2021 @ 7:30 pm

–

9:00 pm

$6.36
Stretchable and wearable electronics represent a new wave in devices which can bend, flex, and stretch with the human body. Researchers from Melbourne's RMIT University have developed a prototype to mimic real human skin, with the aim to create a viable alternative to invasive skin grafts and conventional prosthetics.
Join Professor Madhu Bhaskaran, who leads the team working to transform conventional, hard electronics into soft, unbreakable products, thin enough to create "electronic skin." These ground-breaking, electronic, prosthetic patches can adhere to the skin to mimic, measure and diagnose body functionality, and monitor the environment around, on, and within us. Their potential extends beyond improving the lives of people with prosthetic limbs and skin grafts to offer new tools for surgeons, astronauts and other professions requiring a precise "feel" without direct contact.
About the Speaker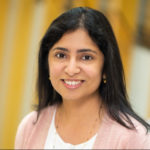 Professor Madhu Bhaskaran is a multi-award winning electronics engineer and innovator. She was the 2014 recipient of the RSV's Phillip Law Postdoctoral Award, and has since been recognised for her outstanding achievements with a slew of awards, including the 2018 Batterham Medal from the Australian Academy of Technology and Engineering and the 2020 Frederick White Medal from the Australian Academy of Science.
Professor Bhaskaran co-leads the Functional Materials and Microsystems Research Group at RMIT University, which she established at the outset of an ARC postdoctoral fellowship in 2010, and acts as Node Director and Chief Investigator for the ARC Centre of Excellence for Transformative Meta-Optical Systems. Her work on electronic skin and wearable sensors has been patented, and her group now works collaboratively with multiple industry and design partners to commercialise the technology for healthcare and aged care.
Madhu attained her Bachelor of Engineering at the PSG College of Technology in Coimbatore, India, before completing first her Master of Engineering then Doctor of Philosophy at RMIT University, Melbourne.
Tickets are available below to participate in the webinar via Zoom and/or Eventbrite. RSV Members are prompted to enter their promotional code to access a member's ticket. Alternatively, you can watch along via Facebook Live at the appointed time without buying a ticket.