Why the World Needs Ecologists
13 May 2021 @ 7:00 pm

–

8:30 pm
We are drowning in bad news. Two pages into the (1000pg) United Nations Global Assessment of Biodiversity and Ecosystem Services and you'll be pleading for Tolstoy. Even David Attenborough is depressing these days.
Ecosystems collapse and species loss is being documented across the planet, with profound existential ramifications. Habitat degradation and loss remains the key driver of biodiversity loss, but climate change and invasive species promise to compound the damages we have wrought.
To save you days of morbid reading, Professor Brendan Wintle will provide a short and cheerful summary of the global extinction crisis, including Australia's prominent and expanding role in species' extirpation.
"To live without hope is to cease to live" (Dostoyevsky). So Brendan will celebrate the hopeful and crucial role that ecologists can play (and are playing) in co-designing and implementing solutions to the extinction crisis in partnership with private land conservation organisations, Indigenous land managers, developers, and governments. Science, civil society, business and policy makers can work constructively to bring the transformative change needed to 'bend the curve'.
Brendan will give positive examples of some great collaborations that seek to keep our unique species, ecosystems and cultures intact, and will finish with a suite of practical measures that society and individuals can pursue to bring benefits to nature and people.
About the Speaker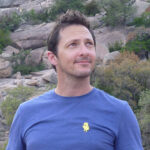 Professor Brendan Wintle is the Director of the Threatened Species Recovery Hub, based at the University of Melbourne. He specializes in modelling and dealing with uncertainty in environmental decisions, and measuring cost-effectiveness of conservation programs.
He has served on Forest Stewardship Council reference committees, and various Commonwealth and State science advisory bodies including the Regional Sustainability Planning Advisory Committee, the Monitoring and Evaluation (MERI) advisory group, and the 'Save the Tasmanian Devil' Science Advisory Group.
Brendan completed a Forestry Degree in 1994 before working as a senior forest policy officer in the Queensland State Government. He completed his PhD in 2004 entitled "Characterizing and dealing with uncertainty in species distribution models" at the University of Melbourne. He won an Australian Postdoctoral Fellowship to work on the design of wildlife monitoring programs before taking up a position with the University of Melbourne's School of Botany as a lecturer in Conservation Ecology.
He holds an ARC Future Fellowship: "Climate adaptation strategies for conserving biodiversity in rapidly changing landscapes".
Tickets are available below to participate in the webinar via Zoom and/or Eventbrite. Alternatively, you can watch along via Facebook Live at the appointed time without buying a ticket. Presented with the support of the Inspiring Victoria program.