Next-Gen Spatial Tech for Forest Management
20 May 2021 @ 6:00 pm

–

7:30 pm
New spatial technologies – like remote sensing, global positioning systems, ground based sensors, monitoring and other ICT interventions – are set to revolutionise our understanding of our forests and improve our capacity to manage and sustain them. Join three proponents of these powerful new systems for environmental monitoring to learn more about their potential applications for the management of water resources, forest growth rates and bushfire risks, enabling our forest estates to adapt and persist through rapidly changing conditions.
Keynote:
The Democratisation of Remote Sensing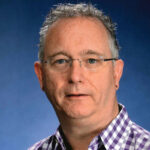 Professor Nicholas Coops
Canada Research Chair in Remote Sensing
Head pro tem, Department of Forest Resources Management, University of British Columbia
It's hard to remember a time when we couldn't experience our world through images produced by satellites and airplanes. These remote images have allowed us to see things as never before, to gain insight and shift perspective.
The technology has exploded in the past five years – it's everywhere, with vast amounts of forestry data generated every day. Remote sensing – collecting imagery of the Earth's surface – is cheaper and easier than ever before, and is revolutionizing the way we measure and monitor our forests. We can now see everything from a single leaf to the entire planet.
Professor Nicholas Coops is a researcher investigating innovative ways to use these technologies to help understand the process occurring within out forests and developing tools and methods to manage them sustainably. He is the most recent co-recipient of the Wallenberg Prize (the equivalent of the Nobel Prize for Forest Science) for his work on the 3-PG model; the other two co-recipients were Australian Dr Joe Landsberg and American Dr Richard Waring. This groundbreaking work in developing forest growth models is based on tree ecophysiology, further developed for large area application using geospatial forest analysis and remote sensing techniques. Nicholas completed his PhD at RMIT University.
Presentation:
New, Precise Positioning Technologies for CM Accuracy and Near Real Time Geostationary Satellite Monitoring of Bushfires
Professor Allison Kealy
Acting Chief Research Officer & Research Program Director
Advanced Satellite Systems, Sensors and Intelligence, SmartSat CRC
Professor, Geospatial Science, RMIT University
Allison's presentation will cover three new technologies: first, the dedicated new Space Based Augmentation System (SBAS) that Australia is in the process of acquiring and its role in improving positioning accuracies to within 3- 5 cm; second, the operational introduction of Japan's Himawari-8 geostationary remote sensing satellite in detecting and monitoring bushfires; and third, the AquaWatch IoT satellite sensor system for monitoring water usage.
Professor Allison Kealy is President and Fellow of the International Association of Geodesy, Commission 4 (Positioning and Applications) and co-chair of the International Federation of Surveying (FIG) Working Group 5.5 on Multi-Sensor Systems. Allison is a technical representative to the Institute of Navigation (US) and is the 2017 recipient of the US Institute of Navigation, Captain PVH Weems award for sustained contributions to advancing the art and science of navigation, and promoting and expanding the use of PNT among worldwide science and engineering communities. She is the most recent recipient of the Professional Eminence Award, Asia Pacific from the Spatial Industries Business Association – Geospatial Information and Technology Association (for Australia and New Zealand).
Presentation:
Situational Awareness for a Rapid Response: Enabling Early Detection of Natural Disasters Through Intelligent, Integrated Sensor Networks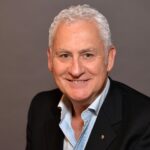 Mr Rob Gell AM
Director, Attentis Pty Ltd
Director, ReThink Sustainability Pty Ltd
President, The Royal Society of Victoria
Among many roles, Rob is a Director of Attentis. This Australian company designs and manufactures intelligent multi-sensors that incorporate fire, flood and air composition detection with micro-climate weather, noise, vibration, ground movement and specialised sensing to deliver early notification of fire ignition, floods and airborne pathogens. Deployed across a regional network, these provide instant first responder notification, detailing the type of threat, location, images and live conditions to enable rapid investigation and the most effective deployment of resources, including aerial response and ground crews.
Rob's expertise is as a geographer and a coastal geomorphologist, specialising in the environmental processes that continually shape our coastlines. Today he works as an environmental and communications consultant. He is a member of the Advisory Board of the Melbourne Sustainable Society Institute, a Fellow of the Royal Geographical Society and an Inaugural Fellow of the Environment Institute of Australia and New Zealand.
Chair: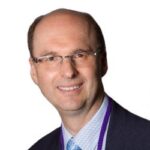 Dr Peter Woodgate
Chair, SmartSat CRC
Our MC for the evening will be Dr Peter Woodgate, Chair of the SmartSat CRC, Chair of the Steering Committee for the 2030 Space and Spatial Industry Growth Roadmap, which is building a growth roadmap for both industries, and a member of the Australian Space Agency's Space Industry Leaders Forum. Peter is also Chair of the Australian Urban Research Infrastructure Network. Peter served as CEO of the Australia and New Zealand Cooperative Research Centre for Spatial Information (CRCSI) from June 2003 to December 2017 and has held senior positions with the Victorian Government and RMIT University.

Presented as a partnership between the Institute of Foresters of Australia, the Royal Society of Victoria and the Inspiring Victoria initiative.
Tickets are available below to participate in the webinar via Zoom and/or Eventbrite. RSV and IFA Members are prompted to enter their promotional code to access a member's ticket. Alternatively, you can watch along via Facebook Live at the appointed time without buying a ticket.