Students, it's time to dive into the National Science Week festivities
National Science Week is just around the corner. While things are a little different this year, there are still a number of ways for students, schools and communities to get involved in the fun. Share in, discover, and contribute to the buzz and excitement. Celebrate the discoveries that have been made and those to come. The future is for everyone to create, and science is helping to build the future.
Schools are diving into the theme "Deep Blue". To introduce students to Victorian marine habitats and wildlife, and the threats posed to these systems by plastics in greater depth, the EcoCentre is running online incursions Saving Sam the Sea Dragon. Through the eyes of Victoria's marine emblem, the seadragon, students will be encouraged to value environmental systems such as Port Philip Bay and consider sustainable living choices.
Single use plastics are threatening our oceans and everything that depends on them for survival, including us. Plastic Oceans Australasia and John Monash Science School will deliver a seminar on Phasing out plastics from schools. Make a pledge to reduce your plastic use and be inspired to take on projects that encourage your own schools to reduce single plastic use consumption to protect our oceans.
In line with the theme of sustainability, Zoos Victoria is hosting a number of webinars for school students of different ages. Learn about their conservation work to save animals from extinction in Endangered animals: Good News Stories on Threatened Species. Or take Zoos Victoria's motto "zero waste to landfill" on board and learn the STEM skills required to make the challenge become a reality in Wildlife and Waste. Werribee Zoo will also virtually open its gates to tours and provide unique insight into career opportunities at the Zoo. If you're inspired to solve real-world STEM problems at the zoo, you can also take on the STEM Design Challenge.
Focusing on a different environmental issue, you can monitor air pollution. Discover how the type of pollution, daily weather, and global events all contribute to the quality of the air we breathe. Help scientists use this data to track pollution from its sources and determine its impact on a global scale in a workshop.
Can you think creatively and spot the maths that is all around you? Capture the maths in your everyday life in a photo to enter the scienceXart: spot the maths competition run by the Australian Mathematical Society and Statistical Society of Australia.
Are you a budding pilot or master creator of paper planes? Make a paper plane and show off its great flight distance or airtime in the online Young Scientist Paper Planes Challenge.
Until the discovery of the Rosetta stone, thousands of artefacts Egyptian hieroglyphics remained undeciphered. Whittlesea Tech School challenges students to develop an item that communicates an idea, fact, or cultural principle to a future generation that no longer speaks any of today's languages as part of Rosetta Tomorrow.
If robots are your thing, Robofun is hosting coding, robotics and 3D design classes for kids to learn the basic skills while creating their own games, animations, circuits and designs. The Robogals Science Challenge is also open for female and gender-diverse students. The challenge aims to inspire students to explore various STEM projects and create short 'show and tells' of their discoveries.
Use Ocean Biomimicry to create soft, flexible robots inspired by octopuses that can dive 3000 leagues under the sea with the help of Monash Tech School. As we expand our exploration into increasingly dangerous environments, we need think carefully about the type of help and tools we bring there with us.
Stay up-to-date with the global efforts to prevent, diagnose and treat COVID-19 with Biobrain's Webinar: Antibodies, vaccines, and the COVID-19 pandemic. Listen to Dr Bradley McColl (Affinity BIO) and Dr Simon Preston (Walter and Eliza Hall Institute) chat about their generation of innovative therapies to treat infectious diseases.
The University of Melbourne School of Biomedical Sciences is running its annual E-meet a (Biomedical) Scientist program. Budding high school students are connected for video calls with biomedical scientists, many of whom are global leaders in their research field.
Learn about how modern cancer treatments work by playing an immersive virtual reality (VR) game. Designed by cancer researchers, Dr Ken Dutton-Regester (Excite Science) and Dr Elke Hacker (QUT), MalignancyVR transports plays into the lung, where they have to use chemotherapy and immunotherapy to kill tumours. The game is free to download for a limited time during Science Week.
Want to learn how to use and create augmented reality (AR)? In a Blink of Eye – AR Workshop, you can learn to create simple filters on the Spark AR free software to be shared on Facebook and Instagram – your posts will be envied by all your friends.
Can you convert light to electricity? The ARC Centre of Excellence in Exciton Science's Solar Cell Challenge gets students involved in hands-on science and constructing their very own solar cell. They also have worked with online game designers at Might Serious Games to develop three highly engaging online computer game for that incorporate scientific goals as linked to our Centre around solar energy and laser technology.
Scinema showcases the best in science cinema from around the world. Watch science films from the comfort of your home that inspire the young, satisfy the curious, explain the baffling and ask the impossible. Make family movie night educational!
Search for life on other planets and Explore Habitable Worlds. In a workshop run by Praxical and the Australian Centre for Astrobiology, learn about the data and skills used by astrobiologists and astronomers to search for life in the Universe. You can also use a planet simulator to explore how planet and star characteristics affect conditions needed for life.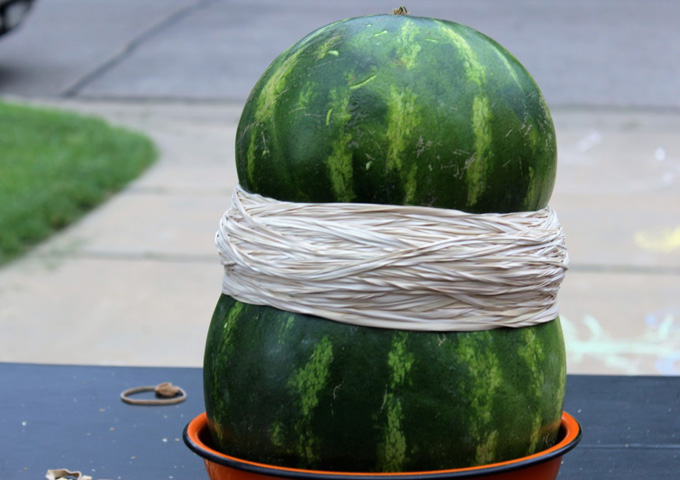 How many rubber bands does it take to implode a watermelon? Find out with the Big Watermelon Experiment. In a visually (and tastily) spectacular experiment, students fit as many rubber bands around a watermelon as they can, learning about the physics behind the forces at work.
Hopefully these activities pique your interest. There's something for everyone because science is for everyone! Happy Science Week!