Changing Forests in a Changing Climate: What Might the Future Hold?
25 March 2021 @ 7:00 pm

–

8:30 pm
Over the past 25 years the forests of south-eastern Australia have taken a pounding — the Millennium Drought, the Eastern Alps/Canberra fires of 2003, the Great Divide bushfires of 2006/7, the Black Saturday fires of 2009, the 2017-19 drought, and, most recently, the unprecedented 2019/20 fire season. Model projections of climate in the coming decades suggest that the frequency and intensity of droughts and fire are likely to increase.
This raises an obvious, and troubling, question: Are the region's forests able to persist under this onslaught of climate-driven disturbance?
In answering this question, we need to consider whether there is a role for forest management and, if so, what that might look like. Join Professor Patrick Baker, who will put recent climate variability into a broader historical context, discuss the implications of expected future climates for forests and forest dynamics, and consider forest management practices that might help to buffer south-eastern Australia's forests against climate-related disturbances.
About the Speaker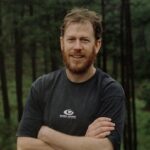 Professor Patrick Baker is a Professor of Silviculture and Forest Ecology at the University of Melbourne. His research focuses on native forests, their dynamics, and the factors that influence them. Over the past 20 years he has worked in three separate discipline areas – forest ecology, silviculture, and palaeoclimatology – to better understand how forest management might be used to make forests more resistant and resilient to various agents of global change.
He is currently a Charles Bullard Fellow at Harvard University and was previously an ARC Future Fellow and an adjunct research scientist at the Lamont-Doherty Earth Observatory of Columbia University. Before coming to Australia, Patrick was a research scientist for The Nature Conservancy of Hawaii and the US Forest Service.
Tickets are available below to participate in the webinar via Zoom and/or Eventbrite. Alternatively, you can watch along via Facebook Live at the appointed time without buying a ticket.